Why your company does not use solar energy?
Your rooftop is useless at the moment; it just costs your money. Conventional power just gets more costly, while green power is free and stimulated by the administration. You can advantage from what is presently called as green marketing to market your firm.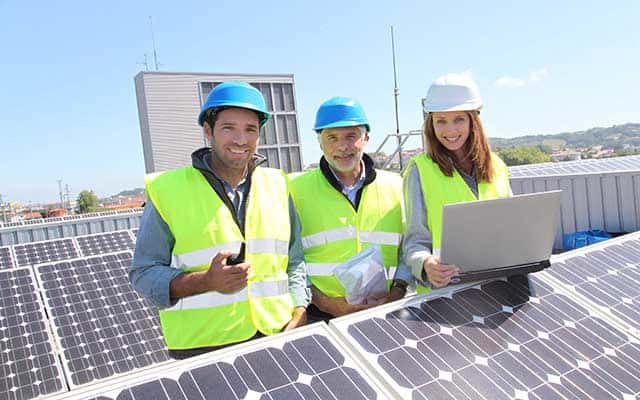 Service Overview
Promsun specializes in commercial clients, so no job is either too large or small for us. We offer quality solar panel installation. We work with every industry including education, retail, convention centers, medical, multi-family housing, hotels, etc. Irrespective of your budget, we can come up with a roofing design and installation that would suit your budget.
We're experienced solar installers and experts, with experience and tools required for large commercial jobs. We take our job seriously and every commercial job we take, we complete it. We have dealt with different roofs and materials, worked for different clients and requirement and are confident to take on any job.
Our solar panel installations and integrated roofing solutions will reduce your construction cost and time, saving you money post installation by bringing down your energy bills. This way, you can save more on commercial buildings with larger energy requirement. With our lifetime guarantee investors and project managers would be all over your project in no time.
Commercial systems' estimated ROI can be over $1,000,000 for 15 years and it would hardly take three years to cover the investment. If you don't have large budget in mind, with Power Purchase Agreement (PPA) evaluation you could estimate your energy bills and understand the savings you would gain by installing solar system. PPAs aren't even close to cost-effective, as compared to solar panels. Generally you could save 30% off your energy bills! Besides, you could do your bit towards saving the planet with this green move.
Promsun has an array of commercial system options to cater to different requirements. We ensure all solar (PV) photovoltaic projects are designed to highest performance and longevity standards, while offering better ROI. Promsun also takes up engineering consulting and designing services for different clients focusing on customized designing and engineering. Our solar projects are tailored around your requirements from commission to interconnection.
Promsun is an authority on northeast solar market and are well versed with policies governing the area. Our clients are educated on state and federal tax policies, benefits, incentives and rebates. We don't give up once a project is completed and follow through with alerts for quarterly inspections, which is part of our continued operations and maintenance initiative.
Commercial Solar Electric Installations offer the Following Advantages for your Business:
• Reduced Monthly Energy Costs
• Reduced Risk / Better Returns
As a matter of fact, you would be getting paid for all the excess electricity generated by the system for 25+ years. Doesn't it feel good to ensure free electricity for your long-term planning?
Why Choose Promsun Solutions?
• Promsun provides results!
We vouch for our materials, designs and offer turnkey installation! Our systems are high quality and function as promised, which means you get the results you are led to expect.
• Promsun is your Local Solar Expert!
This means, our team will have exposure and experience to the locality and will help come up with suitable decisions that help with your company goals, budget and needs.
• Promsun does heavy lifting on your behalf!
We undertake the paperwork and other cumbersome tasks and offer you a hassle-free installation process. It is our commitment to ensure you get funds rolling in INSTANTLY!
Irrespective of how large your commercial establishment is, we will come up with a solution to meet your requirements and budget, and as professionals we come with experience and experience to get the job done.
Our Step-by-Step Process:
• Estimate & Consultation
• Site Survey, followed by System Design
• Contracting
• Utility Administration
• Permits
• Installation
• Commissioning
• Service & Support
Working with a reputed solar company that comes with a long list of satisfied clients ensures you satisfaction! Feel free to reach us anytime. Call us TODAY for discussing your commercial project requirements.